Experience With Horses Not Required
Each miraculous step MANE's students take would not be possible without the hard work and dedication of well-trained volunteers. Volunteers are an integral part of MANE's programs – in fact, they are arguably at the core of all success stories. Volunteers are involved with many facets of the work at MANE and assist in a variety of ways, by:
Leading horses during lessons
Walking alongside riders during lessons
Assisting riders with grooming and tacking
Caring for horses
Assisting with fundraisers and community outreach events
Assisting with various administrative duties
Helping with grounds/site maintenance
Sharing their talents through photography, arts & crafts, and gardening
Volunteer Spotlight
Janet Treat's family purchased a property in Pike Road, inquired about MANE, attended a volunteer training, and was hooked! Janet is a life-long volunteer in the community, but health issues had sidelined her ongoing efforts. With her sweet nature and heart for service, she found a perfect fit at MANE, working with horses and special needs children. Janet finds cleaning stalls and grooming horses to be a wonderful therapy for her personally and is thankful for the special friendships forged with other MANE volunteers.
"MANE is a life-changing experience for me and the children I've meet," says Janet. "You don't have to know a thing about horses to volunteer. You'll learn as you go with the help of MANE's outstanding staff and other volunteers. If you have just one hour, it makes the program work. Without volunteers, there would not be a MANE."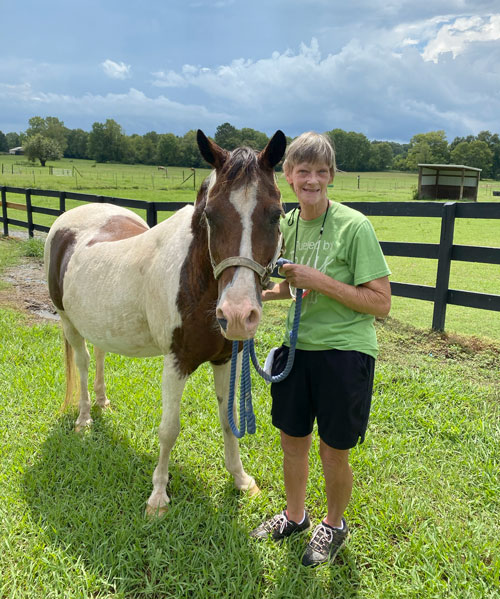 Please consider joining MANE's exceptional team of volunteers! Whether you can offer us an hour a week of your time or several hours every day, there is never a shortage of volunteer opportunities at MANE – even when lessons are not in progress. Experience with horses is not required! We'll teach you everything you need to know. All that is required is that you:
Are at least 14 years of age (or have parental supervision)
Enjoy working with (or have a desire to learn to work with) people with special needs
Read through MANE's volunteer handbook and attend a volunteer training
Volunteer training is held monthly as schedules allow. If you are interested in becoming a volunteer, please email Emily.
Learn more on our Facebook page.